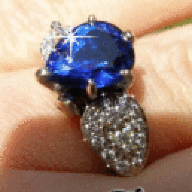 Joined

Feb 27, 2006
Messages

935
Right before we went to bed last night I said I bet they chipped the stone that''s why it''s taking so long..

I just said this because I wanted to get a rise out of him, see what he''d say.
He was kinda annoyed why would you say such a thing?!! i said aaah I don''t know...
Did yah call???! Yes... and what did they say? I don''t know. I don''t know? How do you not know? Did they at least call you back? He said I don''t know or I can''t remember.
So he asked me how work was.. I said I don''t know, what did you do at work today? Can''t remember! lol
Into sleep mode now.........
I haven''t really talked him about the status of the ring in four months, I''ve been a good girl, but yesterday I was alittle antsy.
In my dream I was badgering him in front of two of our close friends. People in the background were hesitating "don''t do it looks" and then he broke down and said Here! Are you happy? Will you marry me??! All annoyed and opened the box. I screamed No!! and stormed off crying.
His best friend went to console me and I said to him that not in a million would I accept a proposal during an arugment. I only get one in my whole life and he ruined it.
B/f came up to me and all apologetic and said did you at least take a look at it? It came out nice. I said no, and I don''t want to until you really propose right.

I was so happy it was a dream, I''m not going to ask him for another few months now... Learned my lesson in the dream.