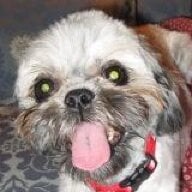 Joined

Feb 13, 2006
Messages

2,389
So, it was June of 2006 when I was last here, a broken mess. My ex and I are cordial to each other online now, via Facebook, but I denied him any contact until this winter. We had a decent talk a few months back. I really don''t want anything to do with him, but I found it was finally easier to give in and be polite than be annoyed every 3 months when he would try and email me. I may have gone soft!
ANYWAYS! The real reason I am here, my love, My HAL!

Approximately 4 or 5 years ago, we met on a Jewish dating site online. We casually chatted, nothing more. I never deleted his name from my chat log. One night last fall, ok it was Sept. 10th, 2008; I was really bored out of my mind. This guy online had a sad status posted. I thought I knew this guy as someone I had met through the local Twin Cities Jewish Singles Collaborative. We had met a few times with friends and hung out. So I said hi, he didn''t recognize me, so we chatted for 20 minutes. It was really 20 minutes of me trying to convince him of how he knew me. When I started to describe what I knew about him, I stated, "you have a Ph.D." And he says, "Wait a minute, you know I live in Omaha right?!" And I reply "Oh, no, when did you move?!?!" Hal states, "Ummmm, I have always lived here, I have friends in MN. You know my name is Hal ...." And I reply, "of course! So wait a minute, how do I know you then..." Finally we figure out the jdate.com connection and are floored. We proceeded to talk on the phone at the rate of 2 hrs a night for the next several days, and every night for the next 2 wks. Somehow, talking to each other just never got boring!
During this time of getting to know each other as friends, we had a few ups and downs. It was quite incredible that we were able to disagree, have an argument, even get mad, and still talk things out. He was able to finally come and visit me for New Years. And it was at the end of that visit we decided to try the craziness of a long-distance relationship.

WHAT???!!!! ME? I swore, so many times, after my ex, that I wouldn''t ever, ever consider doing this again! Its crazy, heart wrenching, expensive, and so emotional. Well, first of all, back up a second, Hal thought he would be moving here in January. This was the one and only reason I agreed with myself to even continue talking with him after that first night. Then he got a promotion at work, and wanted to hold on to that for a while before thinking about moving, so in Omaha he stays/ed. When he visited in January, it wasn''t an easy decision, but we decided to give it our all. I have read through my last thread, when my ex and I broke up, and read through all those helpful posts from all you ladies. WOW! I can honestly say at this point, that Hal and I hold those building blocks you all spoke of. And this relationship is work, but enjoyable work. We once said something along the lines of, even when we are fighting, we are still partners, we still know we will wake up the next morning and be there 100% for each other. Most importantly, as so many of you saw missing before, we have the most amazing time and FUN together.
SO in the last week or two, we have started talking about our future. I just visited him down in Omaha, met his parents, and all the good friends. It was so amazing, I didn''t want to leave! Last night we talked engagement, marriage, and a few other goofball things. And he has decided its official, we are engaged to be engaged!