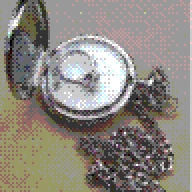 Joined

Apr 14, 2006
Messages

3,929
We still don''t have internet set up at our place, but I''m using the access room in the complex because I couldn''t stay away any longer! Gosh, I LOVE my husband. We were just laughing last night because I got so excited that we''d met our first milestone: double digits. Paul laughed and laughed at me over that.

I promise to post pictures once our internet is up and running. I''ve only seen ONE picture from the wedding, but it''s great. Everything went JUST like we wanted it to. The ceremony was so sweet and precious, totally full of the love we share for one another and our God, and it was just great. Paul was emotional in the most PRECIOUS way, and I just loved it. It was all smooth and went off without a hitch (other than one MINOR thing with the unity candle), and who could ask for more than that?
The reception was great, too. It was just like we''d envisioned it, only better. I was so excited, I didn''t eat anything other than the bite of cake we shared, so luckily, my mom and aunt packed us up some for the drive to Florida.
The honeymoon was great, too. I just loved it all. Most of all though, I love being home, finally, with the man I adore. I love watching him come home from work, smiling because he''s excited to be home, too. I just love it!!
**Side note for you: one night in the Keys, I took a picture of my rings as the sun was setting, Paul was all about saying, "OOOh, is that for the girls at Pricescope?" When I told him it was, he took the camera and took two more, from *better* angles. Hee hee.
We took some with our hands over a palm leaf, too. I thought that would be cute.
I just wanted to pop in before I start work TOMORROW and say hi to everyone and hope all''s going well!!
Mrs. P!!!!!!