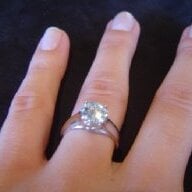 Joined

Apr 29, 2005
Messages

304
Did anyone see the finale last night? Is Lorenzo nuts??? I CANNOT believe for that Lorenzo picked that complete dingbat over the sweet and classy Sadie!! Even in the face of rejection all she cared about was his happiness. Jen lacks class and style, and I fear for the children whose minds she shapes.

I was just blown away when he chose Jen. To be quite honest, I think he was intimidated by the resonsibility of Sadie''s virginity. I think Sadie is the classiest bachelorette that''s ever been on the show, and I hope that she will find a man of the same caliber of class and grace that will make her a true princess....maybe she''ll be chosen as the next Bachelorette!

And that ring, I wasn''t so fond of it...

I need to get a new hobby, I''m way too into these reality tv shows....