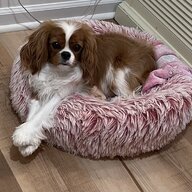 Joined

Aug 12, 2005
Messages

18,991
OK, I need advice from anyone who might have an opinion on the subject of baby shower gifts! I''m going to a baby shower for an acquaintance next week, and am debating about the right gift to give. She''s registered at Babies R Us and Target. I don''t have children yet and am utterly lost at BRU, and while I like shopping at Target, I have shopped registries there before and been baffled after not being able to find anything listed on the registry, especially when shopping for baby items. SO, I noticed that on her BRU registry, she has a Mustela gift set, but it says the item is not available online currently. I know Von Maur and Nordstrom both carry the line, and I am much, much more comfortable shopping at those stores...I would rather get her that set as well as a few supplemental Mustela items and maybe a great classic nursery book or something.
My question is really this: as an expecting mommy, would you rather get all of the items off your registry, or would you rather receive some of those "luxury" items you maybe scanned on a whim...or is there a way for me to do both? Only a few of the items on either registry show up as purchased a week out from the shower. My budget is $75-100...she is not a close friend, but there is some guilt involved here on my part as we were invited to her wedding but could not go and only gave a shower gift but not a wedding gift (they were not invited to our wedding, which took place 2 yrs. before theirs). Also, I hear her husband isn''t currently working and I am torn between getting them a. one thing in the $100 range, b. a couple "fun" things, like the Mustela, or c. a ton of necessities. (But necessities are BORING.)


What do you think? What would you prefer to receive? I would call other friends or ask around, but I don''t know anyone who''s really close to her or who I would be comfortable asking! Thanks for any input...