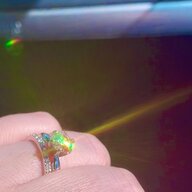 Joined

May 6, 2019
Messages

237
Hello PSers! I recently sold a pair of Tiffany diamond stud earrings on eBay. .27ctw, for $700. I didn't have the original receipt and bought them in London in 2007. Prior to selling them I had them cleaned in my local Tiffany in Dallas. Walked right in to the store and they cleaned them free of charge, without paperwork, no questions asked.
Now, 2 months later, the buyer (in miami) is saying Tiffany won't clean them without authentication, and they won't authenticate them without my permission?! This can't be the case can it? People buy pre-loved Tiffany all the time and have it cleaned and authenticated without even knowing the previous owner or having their permission!
I'm trying to explain to the buyer that there's probably just some inconsistency between what different Tiffany stores can and will offer, and the knowledge and experience of whichever SA you end up dealing with, but she seems to be gunning for a fight
Help!