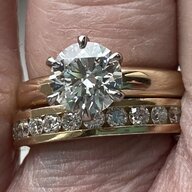 Joined

Feb 27, 2007
Messages

23,576
San Diego Lady, I always found when I wasn't losing weight I was losing inches and that is always a good thing too. You'll see that scale move again.

Happy Anniversary next week. How many years will you be celebrating? Rats for losing your post. I think seeing the Queen Mary would be really fun. $900 is pretty crazy. We stayed at the Brown Palace in Denver one time and we were upgraded to a Suite that is about that a night. Boy was it nice. It raised the bar for my expectations all right; too bad I can't afford to stay in places like that.
Appletini, I am sure those 2 pounds will come right back off. I made cookies for my office tomorrow and didn't even eat one. After being on vacation for 12 days I think I've splurged enough.
I kept busy this afternoon. I did some work on the astronomy club website and sent out an email asking people to sign up for an electronic newsletter. That will save me time and the club money. Sweet. I have the list down to 1/2 of what it was before already. Some were "volunteered" though because they are other organizations that don't pay dues anyway.
I can't believe I am still awake but I am fading fast. Marty's plane should be landing about 5 am my time so I will probably get a text or phone call bright and early. I looked at the airline's website and it shows the flight path. Wow! It flies up over Canada, Greenland, north of England then down over Russia and China. Aak! PS dust for his safe arrival.
CYA Later.

Marcy