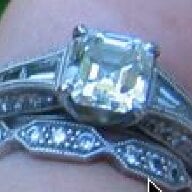 Joined

Jul 27, 2005
Messages

11,534
I thought this NY Times
article
was pretty interesting. Especially if you substitute in "custom e-ring" or "upgrade" for "kitchen remodel."


Some choice bits we ALL can identify with:
"People said it would be a great relief when it was over," she recalled of the project that, for a while, had left a huge hole in the back wall of her house. Instead, she said, "there was a huge hole in my life." "I was in mourning for the possibilities that were."
AND
In other cases, the renovation went well, but not as well as in the renovator's fantasies. "The light shines down in a way that makes clear that the backsplash tiles aren't perfectly straight," Ms. Toth said of her new kitchen. Whatever the results, Ms. Toth said, "they're never going to be as good as what you imagined."
LOVE THIS ...
Post-renovation depression may be particularly acute among people who don't have office jobs. If you work at home, or not at all, renovation can become a kind of dream job: employees show up every morning looking for instructions, and there's nobody to overrule you.