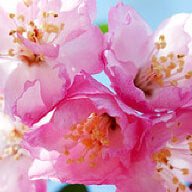 Joined

Nov 12, 2006
Messages

1,084
We still have a good amount of time before deciding on and purchasing our wedding bands but we just so happend to have gone peeking around last weekend and found that with my style of ring, it is harder than we expected to find a perfect fit. I have a beautiful 3-stone engagement ring so it requires either a single band that has sort of a little dip in it to help compensate for the center stone being larger than the rest, or an insert type style (y''know....the kind with a top and bottom ring that fits around the engagemetn ring...esentially making it seem like youre wearing 3 rings at once).
An insert looks so huge on my finger as it is so small (size 5.5) that it looks strange on my hand. I really prefer the single band style with a dip in it but there were only like 2 there to try on

This was common from each of the mainstream stores we checked out and while some were ok, I got a little sad that it seems a perfect companion won''t be found.
I''m not saying we didn''t find ANY rings.....but boy is my selection on the light side when compared to that of a solitaire style.
Does anyone know of a e-retailer or brick-and-mortar place that sells/makes these kinds of enhancers for 3-stone rings? And has alot of options to choose from??
thankyou!