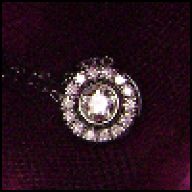 Joined

Mar 14, 2009
Messages

2,146
Hello all,
As a little project I''ve decided I''d like to get a nice art deco diamond ring as inexpensively as possible (but if it''s a nice ring I''m willing to pay more).
I''m thinking something in the $300-$700 range if I can get away with it.
I''ve seen some interesting stuff on ebay, but I was wondering if there are any realy good vendors out there?
Also any tips, or things I should look for in Art Deco? I don''t want to be ripped off.
I''m not expecting anything particulairly in diamond quality .
(I like the ones with a RB set in an octagonal setting with delicate filagree - not the modern "art deco" stuff)
Thanks for your time and assistance