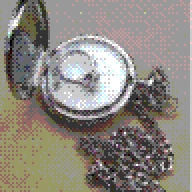 Joined

Apr 14, 2006
Messages

3,929
Okay, I''m home after work, sick. Literally sick. Gagging, coughing, the whole bit.

My phone rings, I think it''s Paul (my husband). I answer, get this automated voice that my car''s warranty is out of date and I have to re-instate it immediately. I know this is total crap, so I hang up. Resume watching Nancy Grace.

Twenty minutes later, the phone rings again. Different number (this time I checked first). It says Kentucky. I have a friend in KY, but never talk to her, so I don''t have her number memorized or in my contacts on my cell phone. So, I answer. It''s the same message again, about a non-existent car warranty. Still feel like poo, so I hang up again.

Not even five minutes later, same caller. Now I''m sick, in a bad mood and *hot tempered.* I listen to the whole yada yada story about my car desperately needing to have the non-existent warranty extended, and this is my last chance. So, I hit ONE to tell this person to leave me alone.

And I get a total and complete schmuck on the phone. He''s not from this country, barely speaks my language and then tells me he has no way to take me off the call list. I tell him I''m on the national "do not call registry," and he says, "well I called you, didn''t I?"

Again, not feeling like playing the game I tell him I need to speak to his supervisor. He says he doesn''t have one. I ask him if he''s the CEO of the company then. He says he is not. I tell him if he doesn''t have a supervisor, I want to talk to someone else who is not him. He says he cannot do that. I tell him I need to know his PIN or ID and his name. He says, and get this, because I was so GRRRY, but it still made me laugh (after I hung up) that his PIN is 007, his first name is James, and last name is Bond.

So, anyway, I called my cell phone provider and told them to block his calls from my phone, since I had the two numbers he''d been calling from. And the cell phone provider says since my phone doesn''t come with Parental Blocks, they can''t do anything. Hmph!

What a pile of poo!!

Add to that Paul coming home right when all this is going on and he tells me not to get so upset over it. Um, I''ve been getting these stupid calls for over a week, and being sick and irritable just put me over the limit to the point of finally answering the dumb calls.

I''m so frustrated that there is apparently no way to stop this from continuing. Does anyone know of any way to block a caller who you don''t want to talk to? Or to report the phone number to someone so it can be dealt with?

I did a quick google search and apparently the KY number is making rounds here in the past week or so, irritating people all over the place.

And seriously, what do they stand to gain in the situation? I mean, do people just blindly think that they are really calling about their car warranty? Do they get stats from people and then use them to pull identity theft? Or are they linking our phone numbers to long distance calls or something? (I remember that being a big issue back in the day with land lines...)

Just a vent because I''m so not feeling good and I don''t understand why the national don''t call me list isn''t doing any good!!