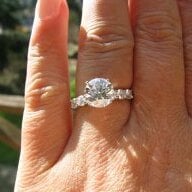 Joined

Oct 19, 2006
Messages

1,394
Man oh man! First a little background! My fiance and I will be getting married on a beach in Kauai in a few weeks, just the two of us. Back in January I researched and found the wedding company that I wanted to use and spoke to them via instant messenger. They assured me that March is a slow time and that we should have no problems getting the date, time and location we want. So I continue with my research and found the perfect beach. I emailed everything to my darling fiance and told him that he would be in charge of making the final arrangements. That was two months ago.
Fast forward to this weekend. My fiance, the procrastinator, has not done a darn thing to firm up our plans! Granted, he has had a ton on his plate the past two months, but still

So we sat down yesterday, went over all the details again, and filled out the request form online for the wedding company. Well, I got an email back form the wedding coordinator today and the beach I had chosen is not recommended this time of year due to high surf and the path to it being muddy

The guy recommended another beach, but when I looked online it did not look all that great.
I went back online and none of the beaches that I could find look anything like what I am looking for. Okay, maybe I'm being too picky, but I was looking for a white sandy beach with black lava rocks nearby. I don't want a plain, old sandy beach. I told the guy what I was looking for, but the second recommendation still didn't fit the bill!
I guess the facts are the facts, but if my fiance had dealth with this sooner at least I would have had more time to find an alternate location. I am just so disappointed my orginal location won't work. Note to self: take care of important things myself, lol!
Anybody have any suggestions for a beach on Kauai???