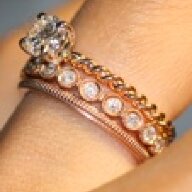 Joined

Sep 14, 2008
Messages

114
I hope I can word this in a way that makes sense so I can get some help!

My e-ring & w-band are platinum and I haven''t really worn gold rings until recently.
I starting a small stack of rose gold rings to wear in place of my e-ring & w-band for when I want a different look.

The first was a thin 2mm plain band (14K). After wearing it for 2 days, the ring was warped (still round, but when placed on a flat surface, half of the ring touched the surface, while the other half was raised up). I am in the process of getting a new band from the vendor.

The second ring is a thin, bead-set eternity band (18K). I''ve been wearing it about a week, stacked with my platinum wedding band, and it has also warped, and it is no longer perfectly round. I''m worried that the diamonds will start falling since the ring is all out of shape!

So my question is: Is this typical with gold rings in general? I''ve been wearing them for such a short period of time - and am already running into trouble! I have never had a problem like this with my platinum rings. I''m pretty upset b/c my e-ring diamond is currently being re-set into an antique-style rose-gold setting. I''m thinking I may have made the wrong decision to go with gold. I wouldn''t say I''m super hard on my rings. I''m careful when opening doors, grabbing keys, etc, but I don''t take my rings off all the time at all. Does anyone notice this with their WG or YG rings? Is this just me? Help!

Thanks in advance!