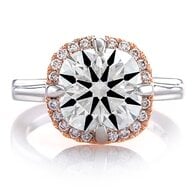 Joined

Mar 24, 2009
Messages

146
I''m a little confused on the appraisal front. I remember my mom saying that, "appraisals always come in high." Is that true? If so, why? And how much higher over retail?
I''m not very clear because I am very lucky to have a good friend who is a gemologist and owns his own store. He gave us my e-ring at or near wholesale. The appraisal he gave us for insurance purposes was written for much, much more than we paid though....about 175% more.
So for a B&M store, what is typical markup from wholesale to retail? And then is there an additional markup from retail to appraised value?
If it helps, I''m talking about a HOF AGS0, 1.62 ct, I , VS1 stone in a HOF setting. I''m not looking to sell or anything. Just kind of trying to figure out what it''s real "worth" is.
Any education would be much appreciated

Thanks!