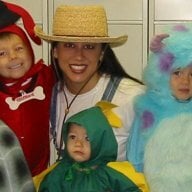 Joined

Mar 11, 2003
Messages

36
Hi All,

Wonder if someone can give me some advice or an opinion on a solitaire setting/mounting. I just looked at the platinum solitaire setting that my radiant diamond is going to be set in & I was a little disappointed; the head/mounting that the diamond is to be set in looked terribly bulky to me. Since I have no experience in this department, I'm wondering if this is just me or if lighter mountings are available.

The jeweler advised that it's important to protect the diamond with this type of setting, and he's been a good jeweler, but I don't want to be talked into this mounting just because he thinks it's the best way to go. If everyone else's opinions out there coincide w/his, I'll presume it's just my inexperience on this.

It's just that when he dropped the loose diamond in the setting, it seemed to get completely lost in the mounting. And it sort of seems wrong for a 2.04 diamond to be "lost" in a solitaire setting. Can I request a smaller mounting or one with less metal all around the diamond? Or should I stick w/this mounting to protect the diamond? Please help!