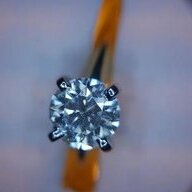 Joined

Dec 2, 2017
Messages

39
I've had my finger measured by 5 different jewelry stores, tried out 2 different sizing kits, and bought 5 test fitting stainless rings. They all say at 6mm width, my ring size is a 9.0.
So, my fiance orders a ring in size 9 and it is way too loose. We even went to a jeweler the same day to look for her wedding band and had them size my finger again. 9.0
But the reputable place we ordered this from is saying they sent us a 9.0 and that I would need to order an 8.75.
I'm wary of doing this as 8.75 is too tight for me from all other experiences.
Here is the ring in yellow gold 18k.
https://www.benchmarkrings.com/wedding-rings/benchmark/mens-wedding-rings/RECF7603Y