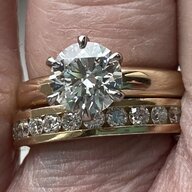 Joined

Feb 27, 2007
Messages

23,581
Deegee, your gallon of paint is far more practical than my diamond. Yes, we went to Denver today and I got a 1.03 ct diamond. They mounted it in my solitaire setting and I was able to pick it up before we left town. I took a few photos tonight but none of them are very good so I hope to get some tomorrow with some sunshine. I also have a piece of fuzz under one of the prongs - aargh! I only went from a .81 to a 1 carat and it looks bigger to me but probably no one else will notice. They only had this one AGS0 and one GIA EX in my carat range but the AGS0 was way more than I wanted to pay. They took off about 9% and I traded in a pair of sapphire studs and felt like i wanted to afford it. Poor Marty was on his bat phone ALL day with a work problem. I did get him off it long enough to ask if I could get the diamond. I said "it's more than I intended to spend" and he said something like "isn't that the way it always turns out?" I couldn't deny it.
We met some friends when we got back to town and got home about 9.
Tomorrow I need to buy groceries and get some menus planned out for the week.
Have a great Sunday.
Marcy