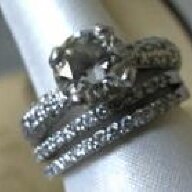 Joined

Jul 17, 2010
Messages

121
Hello all,
My husband and I are looking to purchase a gift for our niece's bat mitzvah next year. We can't agree on what to get - definitely jewelry. Personally, I want to give her a the rose gold elsa peretti open heart pendant from Tiffany's. A Bat mitzvah is a big deal, and she's grown into a wonderfully sensitive, caring girl who I'm proud to call a member of my family. All the same, my husband thinks it's flashy to spend $800 on a 13 year old. (he is jewish also.) I don't like sterling silver, personally and I would like to give her something 'branded' so to speak, even though normally that's not for me. I just think there's something very special about becoming a young woman.
What do you think? Any other ideas? We're giving her this jewelry box from Pottery Barn for Chanukah next year so whatever we give her, she'll have a safe and grown-up place to keep it:
http://www.potterybarn.com/products...NoFacet-_-NoFacet-_-Sku_Top_Marketing_Rule-_-
My in-laws suggested tiny diamond earrings, but I'm not sure about that. It seems so 'normal' I guess, like the gift card of the jewelry world. We'll be making a donation to her college fund as well so no need to worry about that.