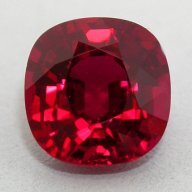 Joined

Aug 1, 2006
Messages

63
Time for more advice guys.

First off the proposal went well. We''ve been riding high as a kite. That is of course until K went for the appraisal. She used Martin Fuller in Northern Virginia who is supposed to be a one of the best. His report looks great, the pictures look great, and then I get to the price,....

and throw up in my mouth.

While I know the setting is somewhat subjective, the stone itself appraised for about half of what I paid for it. Presently this strikes me as uncool. I looked at so many rubies, talked to so many dealers, and really thought I got a good deal. But the ruby I paid 9600 for appraised for about 5000 for insurance purposes.

Anyone have any thoughts, or advice? If I insure this for the amount on this appraisal, I have no idea how I would replace it with the amount I received.

Did I get ripped off? Or am I missing something?