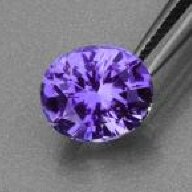 Joined

Feb 15, 2016
Messages

4
Hello, all!
Long time lurker, first time poster here. I finally created an account because I need your help.
I've acquired a special gemstone for my e-ring. It's a 5.49 ct, unheated, lavender sapphire whose pavilion was precision cut to an ideal symmetry by Jerry Newman. It measures 10.79 x 9.20 x 7.02 mm and is from Sri Lanka. I have a Prestige Report from AGL that verifies these details.
I need to get this gem appraised, and my concern is ensuring that it appraises at a high enough value that I could replace it with a decidedly lavender/purple, unheated, precision-cut sapphire with a faceup size of 10 mm or larger. If the worst happened and I needed to replace this stone, I would be stuck hunting for a very large, rare sapphire that was precision cut by a master lapidary (and paying a lot for it if I could find it), or more likely, I would have to buy a native-cut sapphire that was deep enough and large enough to recut (carat weight = $$$). It would be awful enough if anything happened to this gem. I do not want to be stuck with an insurance payout that is insufficient to purchase a replacement that I would be happy with.
I'm looking for an appraiser who will take into consideration all of the things that make my gem special (precision cut, color, faceup size, etc.) and expensive to replace. I don't want to go with someone who is just going to evaluate it as an unheated 5.49 ct sapphire. I want someone who will take everything into account, including the cut. I'm in Indiana. I'm guessing I won't find anyone here, but I thought I would mention that, on the off chance. Maybe there's someone in the Chicago area? Thanks in advance for your help and advice.