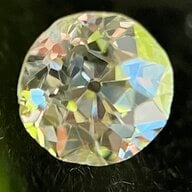 Joined

Dec 16, 2007
Messages

24,364
So with diamond prices going bananas recently the appraisal I got a year ago when I bought my diamond, which at the time was about 20% more than I paid, now would not allow me to replace my diamond. So I got a new appraisal. Tried a different place because I was not happy with the first.
The appraiser was no super ideal
but I was satisfied with his service. I told him I wanted it for insurance purposed, retail replacement value. I asked how he came up with his appraisal value. He said he used the Rap and a few other sources to come up with a valuation and then applied a typical retail markup, consistent with the markup that the jeweler with whom he was affiliated would charge. I was fine with that after some more questioning.
The kicker? The appraised value was $15k
higher
, or 2.25 times
more
than the already inflated appraisal from a year ago! I told him it seemed high and he said he was comfortable lowering it by 15%, which he did, but no more because he was confident that his valuation was on par with what a typical B&M establishment in Canada -- and my city more specifically I guess -- would charge. The sad thing is I think he is right about that estimate.
ETA: If you wonder why I would want a retail replacement value for a Canadian B&M and not a US online store it is because it is possible when it comes time to replace in the event of loss that the US/CAN exchange rate or another factor would mean I had to replace from a local establishment, so I want that option covered in my insurance.
So now I have an appraisal that is almost $8k (or 50%) higher than the present actual replacement value of my diamond (i.e., price of equivalent at
BGD
). Seems pretty steep for a buffer against inflation, and I don't want to pay unecessary premiums for my insurance, but I am not sure I want a lesser value with diamond prices going the way they are!
As an aside, he said my diamond was exquisitely cut