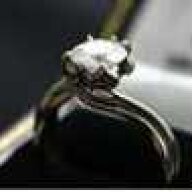 Joined

Feb 1, 2007
Messages

167
New to the forum, hi everyone! You gals (and guys) are so helpful with the advice I just had to ask:

My sweetpea and I are having a Friday night wedding in NYC and ideally, would like to have an adults only affair. At the time of our wedding, his nephew will be almost 2 and mine will have just turned 5. When each of us, separately, brought this up with our moms, both of them flipped out. We did not expect this at all, and were stunned by their reactions. My mom even said that it would be impossible for my sister to find a babysitter - uh, the wedding is nine months away! This is how irrational they are being about the whole thing. By the way, my sister is my MOH.

How do we express to our moms, and ultimately to our sisters, that while we love our nephews, we feel strongly about having an adults only wedding? We both want our families there to celebrate with us without having to deal with watching after children. Especially my sister, as I know I''ll be relying on her a lot throughout the setup for the day and during the actual wedding.

Are we being selfish for not wanting kids there? Or do we get to decide how the day goes, considering its our day and we are footing over 50% of the bill?