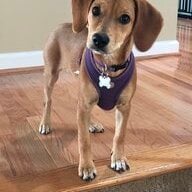 Joined

Jan 18, 2005
Messages

3,551
Does anyone else have a diamond they love that isn''t an ideal cut? Or you have no idea what the cut could be?
We bought my e-ring pre-pricescope (in 2002 from
Blue Nile
) and I have no idea what the cut is! The polish and symmetry are ''very good'', and it''s a GIA certed ''F'', VS2. I adore my princess cut diamond, it sparkles like mad and the rainbow of colors it gives off are gorgeous!
My closest friend got engaged last fall and her diamond is a RB and is a ''good'' cut and it''s stunning! Now if I can just convince her to keep it clean, I''ll be happy

I was reading winternight''s thread over on rockytalk about dead looking diamonds and most people responded that the dead looking diamonds she saw were probably not ideal cuts. So I thought I''d start a thread defending non-ideal cut diamonds

because you CAN have a non-ideal diamond and it look FABulous!

So- anyone else??