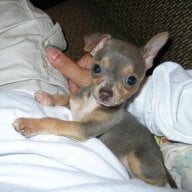 Joined

Dec 16, 2007
Messages

5,184
This season is good...and had a pretty different dynamic than the seasons that preceeded it...

Even as a woman, I have to say, I agree 100% with the guys...the women this season, well, a couple of them at least...are disgusting.

I love Ryan...I think he is so funny, and I find his personality to be pretty enchanting. As he becomes more and more comfortable and begins sharing more of himself with his roomates and the cameras, I find him to be a really relateable, intelligent, funny, talented guy. I really like him best of all.

I like Baia (sp?) too...I think she is sweet and quiet but she seems very fun. And I appreciate that she doesn''t seem to be there to be "dramatic" or grab camera time...she''s just so laid back.

I am finding myself liking Chet more and more...he seems incredibly genuine, calm, and like he''s always up for a good time. At first I was slightly put off by him...but...as the season unfolds, I find he''s less rigid and more "open". I appreciate his sense of self...he likes pink, so he wears it...he''s not trying to "prove anything" and that''s refreshing.

Scott...I like him too. I think he''s a bit of meat-head, but he also seems pretty grounded and mature. Not a bad combo.

J.D...well, I don''t him. I think his need for a family dynamic in house is pretty unrealistic. He is a complete "know it all" and likes to put people into boxes...and he has these blow ups that are totally overdone. In the beginning I was like "wow, he''s great"...but as he unfolds himself, he''s walking a fine line between being fine and bossy.

Devin--gag me. So annoying. She has proclaimed she is a diva...but I think she''s pretty trashy. She really is so hauty and full of herself...it''s a complete turn off. I don''t like her at all.

Sara....I like her because she seems like such a good person. Is she judgemental? Yes, to a point. But her spirit is good, and I think she does anything to intentionally be mean or hurtful. I see being honestly affected when she finds she''s hurt someone, and that to me is a measure of character as well...because everyone can over step a boundry sometimes, but its how you handle yourself once you''ve made aware that counts. And I believe she really does, at the root of it like helping. For example, her art therapy class...how generous of her.

And then we have Katelynn...ick. First of all, her being transgender was obvious from the jump. She has incredibly masculine features, she wasn''t fooling anyone. And I can also understand her excitement now that she''s fully female...but there is a level of modesty that she crosses all the time. Walking around in her underwear, using a support beam as a stripper pole...she''s a mess. And now she''s talking all ghetto and it''s just beyond me. I totally dislike her.

Anyone else have any thoughts on this season?