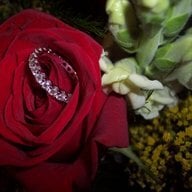 Joined

Dec 18, 2007
Messages

3,793
My mom passed away suddenly in 2016, and I have most of her jewelry, which was bountiful, but NOT my taste or my sister's tastes at all. She liked big, colorful stones in yellow gold (I like small, simple things in white metal). I was planning to make a ring for my sister for her birthday out of one of these items, a yellow gold cocktail diamond cluster around a really pretty (but small) emerald. I'll attach a picture. My sister loves green stones, and she lost a green-stone ring my mom bought her for a significant birthday, which as always made her sad.
My friend from elementary school is a metal worker/jeweler and she said she would like to help me with this - I thought it would be a fun project! I have a setting in mind, but would welcome any advice, thoughts, or other settings you might have seen that you think would work. She likes antique, art deco type styles and white metal. I'm attaching a couple of pictures of my mom's cocktail ring so you can see the stones - it's actually quite nice quality - the emerald is a great color and the diamonds are sparkly. The last photo was my inspiration photo, although I don't have baguettes for the corners.
All feedback is welcome!