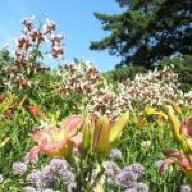 Joined

Jun 16, 2010
Messages

109
I have not been a good WW this week. I don't think the scales will be particularly good to me, either! I'm trying to brace myself - I don't think I have been as bad as the scale is seeming to indicate. I was down quite a bit on Friday, but since then I am up.....
I'm trying to be good the rest of the week to make up for it. We have eaten out several times, went to a festival and I have been shopping, etc. so my normal eating is out of whack.

I'm sorry people are giving you a hard time regarding the commute. I should mention that my commute isn't too long in distance, but long in time. It is just that it will take me about 30 minutes to get to the train station, 50 minute train ride and 10 minute walk. Public transportation is convenient, but I have to admit I prefer driving. I'd much rather be in my car than sitting on a dirty train next to random people! But driving into/parking in SF is expensive, so I'll be taking the train. When I was in Chicago my commute was about 1hr 45min, so I suppose this is better! Is the new location far distance wise or time wise? What type of work do you do? Is it probable that you could find something closer to home?