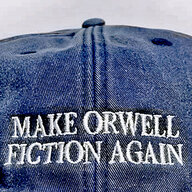 Joined

Apr 30, 2005
Messages

30,198
I'm not posting this as political.
I'm posting this as an astonishing example of an astonishingly incompent "singer" who was somehow hired for an apparently important gig.
When someone sings a serious song in a serious venue they are supposed to hit the notes, on pitch, not sharp, not flat.
They are also supposed to not drift so far from the song's key that it feels like they have modulated to a
different
key, let alone do that a few times during the song.
This singer didn't get the memo.



America's national anthem is notoriously difficult to sing.
That's why event planners must find a competent singer who can pull it off.
This singer makes Florence Foster Jenkins sound like Whitney Houston.
You who read musical notation will get the next joke.
Marc J Harroo wrote the musical notation of incorrect pitches and keys that she actually sang.

Also notice his notes.
He titled his transcription, "The Star
Strangled
Banner". LOL
Some of the comments are a hoot too.
Enjoy.
Last edited: