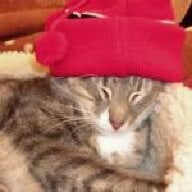 Joined

Aug 14, 2009
Messages

23,551
So I've been chatting Andrew about upgrading quality on my larger akoya, and he mentioned he was trying a batch from a new supplier who might have some promising options…
Since this was his first batch he ordered mostly smaller pearls. Too expensive to go straight into the biggers. He did get one 9-9.5mm pair that I asked to take a look at in-person to see if pulling a larger size might be worth the price jump. OMG guys. A PSer NEEDS these pearls. They're stunning. And y'all know I wouldn't say that if it wasn't true!!
My calipers put them at 9.13mm and 9.17mm, so on the smaller end of the range. But. Perfectly matched in colour, luster is superb, overtone is a nice strong pink which I love, they're super smooth skinned... I'm honestly really impressed. He mentioned the trick would be to see if the 9.5-10 are actually exactly this nice - limbs are crossed!!!!
Crappy cell pic -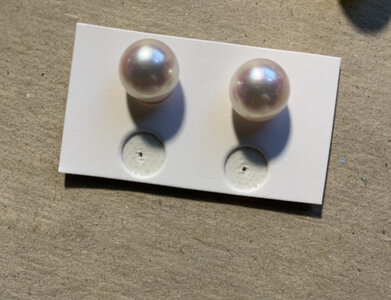 And of course I couldn't not compare to my Mikimoto studs
Miki AAA wins. But… Like, legitimately marginally. I am
completely
confident Miki would call this pair at least AA. Maybe even AAA? I do think Miki is harder on pearls in the larger sizes though. Probably because cost increases so dramatically!!
Andrew 9-9.5 top row, Miki bottom row. Andrew pair has stronger pink overtone, my pair has more silver -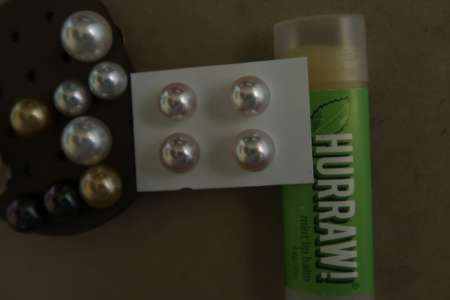 Andrew 9-9.5 left column, Miki right column -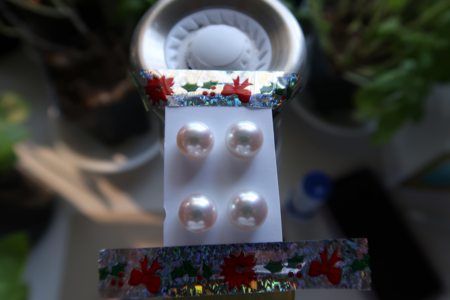 Miki top row, Andrew 9-9.5 bottom row -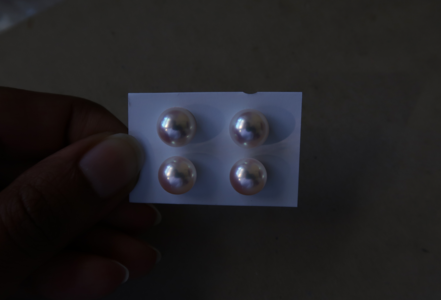 Mikimoto 9-9.25mm AAA akoya are currently $9570 USD. Miki 9-9.25 AA akoya are $6970. Andrew quoted me $5750 mounted and shipped.
Seriously. If anyone's looking for larger gem quality akoya without the brand premium -
ask about these.
If I was in the market for this size I'd be keeping them. They're not a steal but IMO they're a genuinely amazing pair of pearls at a very fair price for quality. The hardest part is *finding* pearls in this quality at this size outside of Mikimoto!! My understanding from chatting with him (I could be wrong on this though) is that this new supplier has quite a bit in this quality in the 7-8mm size range but only a couple pairs in the 9+ size range.
I'll update when I learn more about the 9.5s
Last edited: