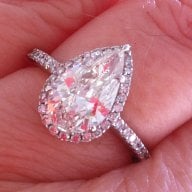 Joined

May 23, 2010
Messages

6,731
I've recently gotten into quilting, since retirement. I've been teaching myself with youtube and the billions of helpful videos on there. I really enjoy playing with colors and fabrics! I've collected tablecloths for many years, so my love of beautiful fabrics runs deep. I don't do elaborate patterns (mostly squares and the occasional triangle), I just like to give pretty fabrics a place to live. I also don't do a lot of quilting of the sandwich, I just stitch in the ditch with nylon thread. I've only been doing it since July when I saw that first charm pack on ebay and I was smitten! It arrived (Los Cabos batiks by Moda) and then I had to learn what to do with it. Precuts are a miracle, compared to the old days; all that color-coordinated fabric makes it sooooo easy!

What I really like about quilting is that I don't have to keep the results! I tried pottery a few years back, but then I ended up with a ton of little pots everywhere. With quilting, I can tailor the fabric to the recipient and I can give it away when done. And they seem to like receiving it. Since word has gotten out, various family members have placed their Christmas "orders".
I'm having a lot of fun with it, and wondering if anyone else on PS is a quilter.

Points for pics!

Funniest part is I never thought I'd be "a quilter", I just fell into it. How did you start?