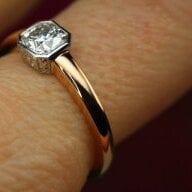 Joined

May 1, 2007
Messages

3,204
Hi all! A few years ago my radar started going off about what is in the stuff we use to clean, and our cosmetics and hygiene items. Since then I've been slowly making changes to what I use. I'm finding my skin is clearer, we hardly get sick, my moods are better, my inflammation is down, etc. etc.
I'd love to hear from any of you on similar journey! What are you using, recipes, effects, etc!
I'll start:
Shampoo:
http://bubbleandbee.com/organic-peppermint-tea-tree-shampoo/
Conditioner:
water & white vinegar rinse
Deodorant:
http://bubbleandbee.com/orange-vanilla-pit-putty-organic-deodorant-cream/
and this to freshen up if I need it, which is not often bc the deodorant rocks
http://bubbleandbee.com/design-a-spray/
Facial Cleanser:
http://bubbleandbee.com/organic-facial-cleanser-cool-cucumber/
If I'm feeling lazy, I just massage jojoba oil into my face and wipe off with a soft cloth (I only wear blush and shadow.)
Moisturizer:
My sister gets me this stuff from a local woman who makes it. It's amazing - only one other moisturizer from Paula Begoun has ever worked for me so that tells you how rockin' this stuff is!
Toothpaste:
I make my own now. Organic refined coconut oil, xylitol, baking soda, and either peppermint or sweet orange essential oil drops. Can't believe what the ingredients in commercial toothpaste do (contribute TO cavities, cancer, bad breath, etc.). I struggle with bad breath despite few cavities, frequent brushing, rinsing and flossing, and quitting coffee. Once I started using this recipe, my bad breath is few and far between, if at all.
Bleach & Softener:
white vinegar, just pour directly into respective receptacles
Countertop & table cleaner:
white vinegar & water, in a giant spray bottle from Target. Leave on for five minutes to disinfect.
Window & glass cleaner:
microfiber window cleaning cloth and water
Butcher block cleaner:
white vinegar. I keep it on the counter in this, and just pour it right onto the butcher block. Let it sit, then wipe off.
https://www.amazon.com/Rachael-Ray-Stoneware-Dispensing-Bottle/dp/B005JLFBX6/ref=sr_1_4?s=home-garden&ie=UTF8&qid=1465920927&sr=1-4&keywords=rachel+ray+oil+and+vinegar+set
Allergy medicine:
local raw honey (We all have seasonal allergies but DH is the only one who still takes meds for it, because he forgets to take a small spoonful a day when he starts getting symtoms.)
Cold medicine:
local raw honey (Two days of sniffles and then we're all good again! Never turns into more.)
Ear infection:
Warm up a bean pouch and hold against ear. Garlic oil drops also sometimes help.