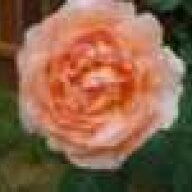 Joined

Jun 25, 2007
Messages

3,160
That was an odd subject but I couldn't think of another way to describe it. I was listening to the radio this morning and they were talking about Kelly Clarkson who sang a song on American Idol about her father who abandoned her. She cried during the performance and it moved the audience to tears. That conversation led one of the DJs to remember his own who has never been there for him and how he is scarred by it.

It got me thinking...my own dad left our family when I was 3. It's actually one of my earliest memories. No real feeling associated with it but I remember my parents packing all of my dad's things into the family station wagon and asking if he was going to bring our dog back (he took him with him because my dad was a police office and our family dog was also his work sidekick). Anyway, as a kid, he was in and out of my life (our lives - there are 4 of us) and he wasn't a very nice person to put it mildly. I would refuse to go with him when he would come around and was sometimes forced. I didn't enjoy it but it wasn't terrible and I was with my siblings. But, when I got to the age where my mother allowed me to choose, I just stopped seeing him. My siblings continued but he lost contact eventually with each of them at different times.

My two older sisters were really impacted by this situation and talk openly about how they have abandonment issues and how this reflects in their personal relationships etc. My brother has kind of a chip on his shoulder about it and, when the subject comes up, he says some pretty hateful things. I feel bad that my siblings had a harder time but I can't relate. I feel nothing. I don't have any hard feelings toward him. One of my siblings (who lives cross-country) recently reunited with him and sent a picture. Even looking at the picture, I felt no emotion. She encouraged all of us to reach out to him which I didn't consider for a second because he's a stranger to me and I don't feel any connection to him. But I don't feel sad about any of it or wonder what life would have been like if he had stuck around. I rarely think about him and, if I do, it's in the context of a childhood memory of an event - not a wonder where he is now or why he left kind of way.

Anyone else have a parent leave and not feel affected? I realize there's no way to know how this influenced my personality but I truly do feel unaffected by it. Maybe because I felt in control of this situation by choosing not to spend time with him on my own? I don't think I'm a cold person and there are people in my life whose absence would completely devastate me. And I do value the relationship of a father with his children. I have a step-father that I love and my own husband is seriously the best father a child could ever wish for.

Sorry, this was pretty poorly articulated but I think I got my point across. Hopefully!