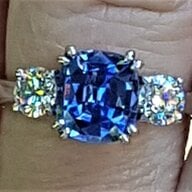 Joined

Apr 5, 2012
Messages

986
As this is a forum for jewellery lovers I was wondering whether any PS members (non-trade members) had entertained the idea of changing careers to do something within the jewellery industry?

I suspect that some of the prosumers on this board know as much (if not more) than many established jewellers (particularly some of the B&M jewellers) about diamonds and settings etc.

Its often said that if you can convert a hobby into a job then doing that job doesnt really seem like "work". So I have been wondering whether any PS members have considered trying to do just that, or have successfully done it? Or if you are reading this and thinking "no way would I want to do that" then why not?

I sometimes think I would love nothing better than working with beautiful sparkly things all day long, but I'm not sure if it would spoil the fun of jewellery for me if it became "work".