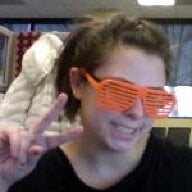 Joined

Jul 5, 2010
Messages

1,065
Just wanted to tell you about the character I made last night that is annoying my husband, the DM, to no end, hehe.
Her name is Yolo Baggins and is a halfing bard going through a mid-life crisis. She specializes in rapping and beat boxing positive affirmations to other players. What the group doesn't know yet is that she has a split personality and her crazy side is going to come out in the next round of playing

We also have another halfing who has a giant toad companion; but the toad is a thug, body guard, type. Freaking hilarious.
What's the best character you've ever created?