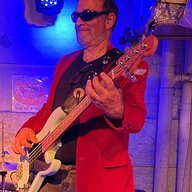 Joined

Jan 7, 2009
Messages

8,055
Arkieb, I'm honestly jealous....
I tried, just a little, to get into the game when I sent you the invite- and I realized it would take me some time ( that I didn't want to spend at that moment) even to figure out how to play.
The whole story of Laser Beam is ....well, sad in a way.
Sure it's amazing that people "hit it big"...
At the same time, it makes it much more difficult for parents to prevent kids from having these aspirations.
I could make an analogy to ...dreaming of becoming a famous person- an actor, or rock star. But you'd first really need to have some talent and play an instrument or sing. Learn to act. Do what it takes to become a model.
If you want to become Laser Beam, you need to learn how to use profanity and play fortnight.
My boys make the case that there's useful skill development playing fortnight, teamwork, and other things.
I'm sure there's truth there....
Going back to my original thought- I truly wish I could grasp the game, and what draws people to it. I am pessimistic....