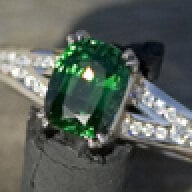 Joined

Aug 3, 2006
Messages

9,613
I am so excited - I have bought the most beautiful antique lace veil. It's 1900's, ivory colour, 76" square, made in cotton and in perfect condition.
I am horribly sentimental and can never throw/sell/give anything away and have been struggling with the idea of eventually parting with whichever wedding dress I end up with. However, all my research so far has only taught me that I have expensive tastes

. I really don't want to spend huge sums on a dress I'll only wear for 6 hours, so... I'm thinking if I sell it later I won't really have spent that much money net.

I think it doubtful that any of my future descendants will want to wear my wedding dress, but Great-Aunt Pandora's antique lace veil might well be another matter. So instead of some enormous meringue hanging round my house in a huge box for years, I'll just have a little box with this in: