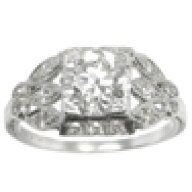 Joined

May 27, 2011
Messages

82
I was wondering if anyone knew anything about this Victorian Pendant? It is silver with coral stones and a portrait that is signed, but I cannot make out the signature. It looks like the first letter is a flowing "C", but that's all I can see in the picture. When I get it (from Ebay), I will put it under the microscope to see if I can read it.
I had no other pendants; this one just caught my eye and looked really special. He was asking $375, but I offered $299 and we settled at a little over $300. He said he buys lots of antique jewelry so has no history on it.
Anyone have any ideas??