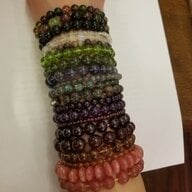 Joined

Jul 2, 2020
Messages

215
Hi PSrs. I need help and advice. I bought a pair of earrings that just arrived. Bought from a reputable source that gets mentioned here a bit. Upon closer inspection the prongs look like they are barely there on one earring. And generally looks like they need to be retipped. I've never retipped before.
I like the patina on the earring, will retipping affect this? can they match the 10k gold colour?
Will I loose the setting?
I wish the seller was able to tell me this in the online description and offer to help tip it ( I would have paid for it before it got here)
Sorry, I have shaky hands for the photos.
Should I return these earrings? if I'll loose the setting? would be a bother as I live in Canada and this is from the US (shipping/customs not cheap!)