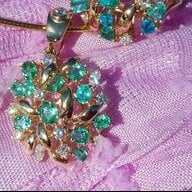 Joined

Jun 30, 2014
Messages

2,379
I tried to resist, I REALLY did (damn PS lol). And this one IS my LAST paraiba ...unless I win the lottery

After kicking myself for missing out on Yvonne's (Cecile Raley Designs) Tucson trip as I debated, she knew I was looking so was thrilled that she remembered me when a customer (mochiko?) decided to return one. I haven't seen it (I totally trust her eye) but here is a picture she took with my pink spinels.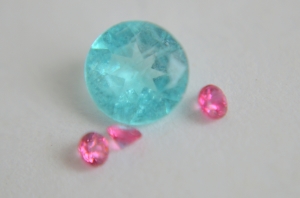 The paraiba is small (5.3mm) and finger coverage is important for my large (size
fingers.
Concerned that the pink spinel would overwhelm the paraiba, I also found myself leaning towards something with diamonds to help break it up. I started with flower rings but then drifted towards other styles...before finally deciding to use this as an inspiration.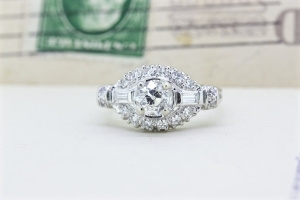 But this didn't reflect Yvonne's style (which I love), we decided to add a scalloped millgrain edge along the outer edges. She also suggested adding paraiba melee on the outer edge might pull it all together.
I clearly don't have the computer (or hand) drawing skills others have but here is what I sent her after some back/forth: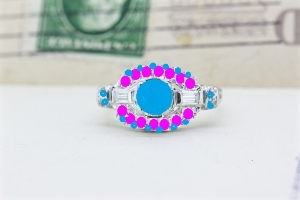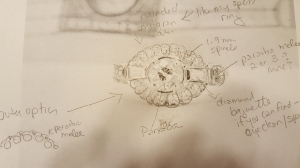 Not sure if you can see this...but here is the scale drawing of the option we both decided to go with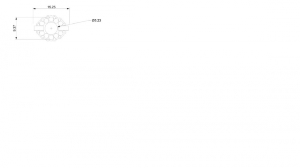 Seeing Chrono's comments on another thread, I am again worried about the pink spinels will overwhelming the paraiba. Yvonne thinks the combination works and said we can break them up with some diamonds if its too much.
So now taking some final deep breaths (and remember how unsure I was the last time I did this and it ended up great) before we move on to CADs.