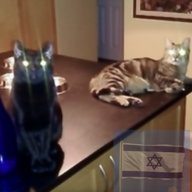 Joined

Jun 8, 2008
Messages

46,103
Sorry to impose again but it is for the good of a sweet kitty. And I am reaching out to everyone I know and sharing it with as many people as I can in order to save this sweet kitty.
He is 5 months old. He is Feline leukemia positive. My parents had him neutered and vaccinated and he is in good health other than being FeLV+. He is ridiculously personable. He loves people and is an indoor kitty. He is sweet and charming and social and craves human contact. My parents have many cats of their own all of whom are negative for FeLV and despite my parents now vaccinating their cats for the feline leukemia virus there is still a 30% chance of their cats catching the virus. So my parents are keeping him on their finished basement away from their cats and my dad is spending as much time with him as possible because he loves the attention and company.
They cannot keep him like this forever because of the risk to their cats. He would be best in a home with another FeLV+ cat or a home with no cats. He truly is a great cat full of personality. We are of course looking into all options but best for him would be a family to adopt him and not a shelter situation. He loves people and loves the one on one interaction. He is sugar sweet.
Thanks for reading this and again I'm sorry to post another please help the kitty thread and I appreciate you taking the time to read and helping find him a good home. He is a good cat. I promise you that.