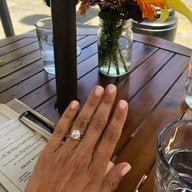 Joined

Aug 27, 2011
Messages

290
Hi All! I've been lurking for quite some time - the information on this site is really great!
My boyfriend (soon to be fiance) and I have been looking at lots of different companies and lots of diamonds. I wanted one that was cut really well. I was also really hoping for it to be 2 carats
. We have decided to buy this one, and to me it seems like a great compromise, but I guess I am looking for affirmation/approval from pricescopers that this is a good idea!
The stone is AGS1 instead of 0 - the light performance and symmetry are ideal, but the polish is "excellent". I read an article on truth about diamonds that it is ok to have "excellent" (AGS) or "very good" (GIA) polish, and that it should not affect the brilliance of the diamond. Is there anyone out there who can tell me if that is true? ALSO if a reputable pricescope vendor has said that it is eye clean from the top and from the sides (after checking at my request), does that mean that we don't have to worry? Or should we have the stone shipped to us before it is set to double check...
Due to being stuck at home from hurricane irene, I figured now was as good a time as any to post
.
These are the specs:
Shape: Round
Report: AGS
Carat: 2.047
Color: I
Clarity: SI1
Measurements: 8.14×8.16×5.01
Lab Cut Grade: Excellent
Light Performance: Ideal
Polish: Excellent
Symmetry: Ideal
Table %: 56.3
Depth %: 61.5
Crown %: 15.0
Crown Angle: 34.7
Star %: 55.0
Pav Angle: 40.7
Pavillion %: 42.9
Lower Girdle %: 76.0
Girdle Min-Max %: 1.8-4.0
Girdle: Thin to Slightly Thick Faceted
Culet: Pointed
Fluorescence: Medium Blue
Lab Comment: Additional twinning wisps and surface graining are not shown.
I can try to post the
idealscope
and ASET (if I can figure out how). Also this is the AGS report no: 104047808003. Can any of you tell me what you think???? Thanks!