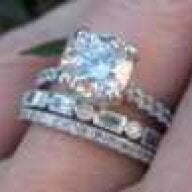 Joined

Dec 4, 2007
Messages

1,170
We moved into our house 2 1/2 years ago. We have very friendly neighbors and have gotten along very well.....until today! About a year ago, they got a dog who is an incessant barker. When my neighbor's are gone, ANY kind of noise will set this dog off. Then she'll bark for like an hour at a time. It's most annoying at night when my 2 yr old daughter is trying to sleep or when we're trying to go to bed.

My husband mentioned it to them about 3 months ago. She gave us a small bag of cheerios and said to tell the dog, "no bark" and then give her one to make her stop barking. We tried this ONCE last week but it only made her bark more intensly. My husband told them the next day that we tried the Cheerios and they did not work. My husband is overly friendly and accomodating to people so I KNOW that he did nothing to instigate any kind of argument.

Well, today we were playing with our daughter in our backyard when our neighbor popped her head over the fence and said, "My dog trainer said for you to not use the Cheerios any more because it's actually rewarding her for barking." I told her that we only used them ONE time. We asked her if there was anything else to try.

She got very short with us and said firmly, "Well, I'm NOT going to use a shock collar and I'm NOT going to lock her up inside the house." I said, "Well the only time it's really an issue is on Saturday night when you're gone late. Is there anything we can do for that one night when you're out late? The dog barks pretty much non-stop until you get home." (That's probably until about 11:30 or so.)

She said, "she's a dog, all the dogs in the neighborhood bark and I'm not going to lock her up. We were here first!" Her voice started to quiver like she was going to cry! Then she started to walk away and told her dogs, "Come on, we have to go inside."

We were left with our mouths dropped to the floor! Seriously, she said "We were here first!" What the heck!!!!

What would you do?