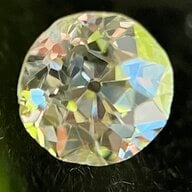 Joined

Dec 16, 2007
Messages

24,364
I have two questions.

I am interested in an item that is listed on Ruby Lane with a three day return period. The seller also has an ebay store with a much wider selection of goods but does not allow returns as policy. Seller is a top rated seller with 10 000 + sales and 99.8% positve feedback.

Question 1: If I purchase on Ruby Lane and return within the return period etc. and the buyer does not refund my money, would PayPal cover this and refund my money? I know PayPal has a policy to cover your purchase price (with caveats) in a case of SND and Item Not Sent, but will they also cover you if the seller does not refund you when you returned the item for other reasons (assuming seller has a written return policy)?

Question 2: I would like to buy through ebay because of the added layer of protection of ebay (seems more powerful than Ruby Lane). If I make an offer and include the condition that the seller extends a return period, and the seller accepts that offer, is that added clause considered part of the contract wrt Ebay and PayPal buyer protection?

Thanks from this ebay newbie.