Hello friends! it has been almost 3 weeks since I have been reading about pearls through all the old posts on this forum and trying to absorb as much theoretical knowledge as possible. But as it turned out, I may just not have the eye to pick something out when presented for multiple choices (some thrive with choices, yet I dislike choices in the fear of missing out on the "best option"! The FOMO is real..)
I want to purchase 3 things from Takahashi.
A strand necklace >7mm for my mom (in her late 50s, petite), the SA on IG recommended 8-9mm.
A dainty bracelet in the neighborhood of 4-5mm for myself (length 17cm or 6.75in).
And a pair of earrings.
Part I - earrings.
I need to decide if I'd like studs or dangles.
if I choose studs, I'd like them in 7-8mm because I'm convinced that my earlobes are small. Pictured - my 5mm studs. I want to get some slightly larger earrings.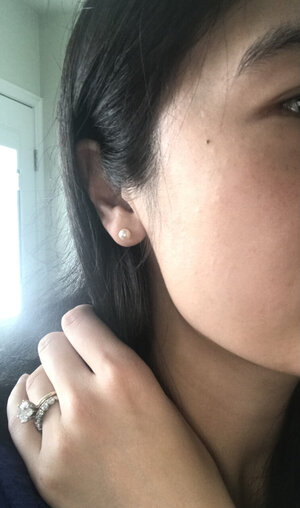 Takahashi sent me these options. I would like to have the best luster and not really sure what I'm looking for yet, is it the clarity of reflection or the 3D/depth effect? I'm leaning towards 7.5-8mm bottom right for studs, but if another pair has better luster please correct me! I like the larger ones too but worry they may overwhelm my small, tightly set ears (they pin close to my head, I don't want huge bulbous pearls to just stick out from the side of my face)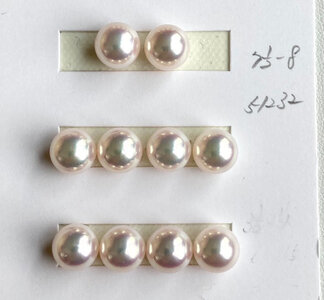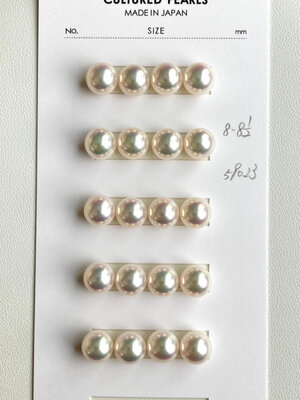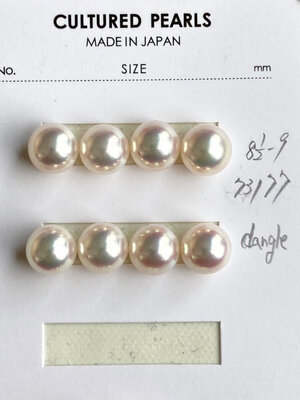 she also recommended the 8.5-9mm if I wanted to get drop earrings. My inspo is Kate Middleton's drop earrings but I worry 1) akoyas are not white enough, 2) not large enough, 3) need to have a teardrop or oval shape. Perhaps I should go for freshwater baroque?
I'm not opposed to picking one pair of each but still want to allocate the majority of the budget towards my mom's necklace.
Inspo for drop earrings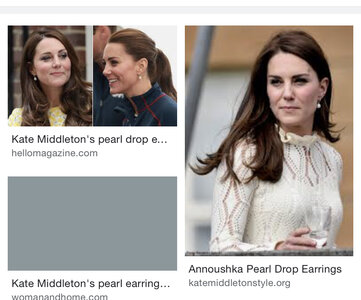 I'm sorry for the long winded post. I don't have a lot of friends who are into jewelry so I just really need a "good girlfriend's opinion" to help me make these decisions. I appreciate any of your time and opinion! I know it's a lot to ask from a stranger on the internet, but hopefully helping me spend some $$ makes it a little satisfying
If I can make chocolate chip cookies and give them out as a token of appreciation I would!! Thanks everyone!