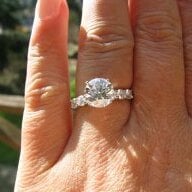 Joined

Oct 19, 2006
Messages

1,394
My husband and I just returned from 10 days in Hawaii for our 2nd anniversary! For a little background, our original Hawaii wedding was nearly ruined courtesy of the US Army. To make a long story short, they lost my husband's orders and refused to allow him to leave on the orginally scheduled date, then they sent him out to the field for several days, delaying him even further. Eventually he made it to Kauai and we had a beautiful ceremony on the beach there. He was deployed to the Middle East for 15 months shortly after we were married and just returned home this past December.
My husband has always felt guilty for the way things went the first time around, so he decided while he was away that we should renew our vows when he came home. He told me that since the first time was so stressful for me, this time he would take care of all the details and that all I had to do was show up in a nice dress.
We had a beautiful vow renewal ceremony on our anniversary in Kauai. I feel so blessed to have such a loving, thoughtful husband who would take the time to plan such a wonderful anniversary!!!
I knew he was planning on buying me an anniversary band, so I did some research and gave him my top three choices - two were online PS vendors and one was a local jeweler. He ended up going with the local jeweler and paying more, but I couldn't convince him to buy online.
Anyway, the stats!!! It's 18k white gold, 1 ctw, 5 stones @ .20 each, SI1 G-H all Ideal cut. Size 6.5