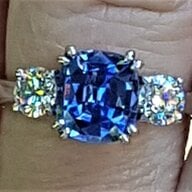 Joined

Apr 5, 2012
Messages

977
I have been searching for my perfect EC for a a couple of years. The advice I have received from the step cut enthusiasts on this site has been amazing, and I have now found "the one". Having looked at many ECs in shops and online, I finally narrowed my search to two loose diamonds and had them sent to me so I can compare them side by side. The results have been surprising in some respects and I wanted to share the info here in case it can be of help to others searching for a great Emerald Cut.
First off its worth mentioning that I was looking for something with a smaller length to width ratio than is the norm for ECs - anything between 1.1 and 1.2. I was also looking for eye clean, and with a white face-up. But on top of that I was determined to find a stone with lovely fire, a great facet pattern and a decent face-up size for the weight.
The two finalists were:
J, VS1, 1.14cts, med blue fluorescence, ratio 1.18
F, SI1, 1.03cts, no fluorescence, ratio 1.11
Vendor Photos
The J:
The F:
From the photos alone I would pick the F every time. It seems to be the brighter stone, with the brightness evenly spread through the stone, and a lovely fact pattern with noticeable steps. The J appears much more tinted and because of the angle the photo was taken from it was difficult to judge the true "face up look". So I felt it looked far less lively than the F.
However, the specs for the J were more favourable on paper than for the F, so I felt it was worth seeing in person.
J, VS1, 1.14cts
Polish Excellent
Symmetry Excellent
Fluorescence Medium
Table % 62%
Depth % 65.9%
Culet None
Girdle Thin to Medium
LxW Ratio 1.18
Measurements 6.52mm x 5.51mm x 3.63mm
F, SI1, 1.03cts
Polish Very Good
Symmetry Excellent
Fluorescence None
Table % 67%
Depth % 65.1%
Culet None
Girdle Thin to Medium
LxW Ratio 1.11
Measurements 6.20mm x 5.58mm x 3.63mm
ASETs
These were not available from the vendor so I used my own ASETscope with a white back light.
Here is the ASET for the J:
And for the F:
Both ASETs seemed quite promising, although the J seemed to have more red, more evenly distributed across the stone. That was a surprise, given the uninspiring photo. The contrast pattern (in blue) in the F stone looked quite striking to me and there was still a good amount of red and green. Neither stones seemed to show too much white (in my opinion) which I understand to be light leakage. More pics coming