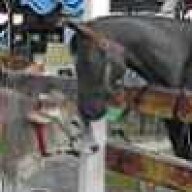 Joined

Apr 14, 2006
Messages

274
I know I don''t post much, but I''ve been travelling from Korea to the states and taking a class, so I really haven''t had time to post for the last few weeks. But today FI and I made a lot of wedding progress...
Today we ordered the cake...it''ll pretty much look like this, though the flowers will be whatever we use for the bouquet and the design on the front of the cake will be a copy of the design on the bottom of my dress.
(The bottom of my actual dress)
Then we decided that the flowers HAVE to include these lilies...we''re not sure on the other colors yet...lilies are my absolute favorite flower and C says no pink, but these aren''t pink, and they smell wonderful. We went in to Krogers and they happened to have them so I bought a bunch of them to take to the bridal store and to other florists. The lady at Kroger said it was the first time they''d ever gotten that kind of star gazer lily there, so that was cool. I just wish their wedding florist had been in this week. But it sounds like there''s time to do the flower thing in June if we need to for our September wedding.
And my sister was the bestest sister in the world and tried on dresses for me for 2.5 hours today. After conferring with my other bridesmaid (so far) we narrowed it down from 5 to three and here they are...





We''re meeting with the band tomorrow. And visiting other florists. Oh! And I found out that my cousin is getting married in October now, not September. And C''s mom came up with a list of 60 people, which is a lot more than C could think of, so we''ll probably end up inviting everyone. My cousin that got married this summer had a 40-45% show rate for the non-immediate family. I had been worried that my cousin was having her wedding in September (but no one would tell my family what day...this is a third cousin). I had also worried about inviting every single extended family member (on my mom''s side alone that is 6
but my cousin did this summer and not too many came. But we''re figuring that with the extra people we''ll probably be at around 100 instead of 75, which is still good.

We''ll be talking to more florists tomorrow, so now I''ve got to find some flowers that are at least the colors I want...sigh...