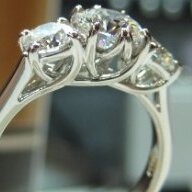 Joined

Apr 3, 2009
Messages

11
I have just received my three-stone ring from
I.D. Jewelry
and I cannot say enough about the excellent experience that I had there. Yekutiel and the entire staff of I.D. Jewelry are consummate professionals and the service that they provide exceeded any expectations that anyone could have when shopping for fine jewelry.
I have wanted a round three-stone anniversary ring for some time and once my son informed me about Pricescope, I became somewhat addicted to this wonderful site trying to learn as much as possible about round diamonds prior to starting my quest. My Pricescope education made me understand why some round diamonds looked wonderful and alive, while others looked dark and dull. I now knew the significance of cut and I relied on the HCA tool to help me evaluate many on-line diamonds from various vendors, although I knew that the Aset and
Idealscope
were also important.
Once I felt armed with sufficient "book learning," since I lived close enough to New York City, I decided to look in person to get an idea of how the "numbers" translated into "real" stones. I also wanted to check out some Vatache settings. I was able to see some diamonds in person and initially I only went into
I.D. Jewelry
to check out the Vatache settings since they were listed on the Vatache site as a vendor. At that time, since I was unaware that they were also a Pricescope vendor, I had no intention of looking for diamonds there as I thought they were just one of the 47th street vendors to avoid at all cost. How wrong I was!!!
I explained that I was only looking at settings, but Yekutiel, without any pressure, brought up some diamonds on his data base. Again, in my mind I knew I would only buy a diamond from a Pricescope vendor, but I didn''t want to be rude when he was trying to be helpful. To my amazement, when he came up with an AGS triple 0 1.06, F, VS2 stone for me to look at, he immediately put the numbers into the HCA tool and then took out an Aset and
Idealscope
without me even asking. Then I mentioned Pricescope and to my surprise he told me he was a Pricescope vendor.
At this point, I was a little overwhelmed with information, so I took a break and came back later in the day. By then Yekutiel had found two matching sidestones which also scored quite highly on the HCA and had wonderful Aset and
Idealscope
images. I went home to think about it and research it for a few more days, then called Yekutiel and said I would like to come up again and take the stones to an independent appraiser (whom I did not name) to review before purchase. He was more than happy to oblige and when the appraiser verified the value of the stones at way more than I was paying, I knew I found my jeweler.
A little over a week later, I have my beautiful ring in the Vatache Royal Crown three-stone setting. I would love to post pictures but the ones I have a too big---I will work on getting smaller ones so I can post but I may have to wait a few more days for my son to help me with this. Once again, if you are looking to buy on-line or on 47th street, you will not find a better place than
I.D. Jewelers
.