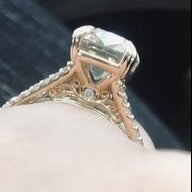 Joined

Dec 29, 2006
Messages

22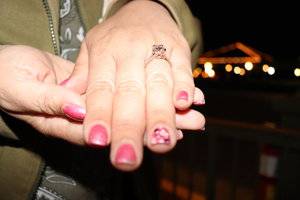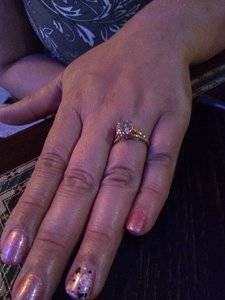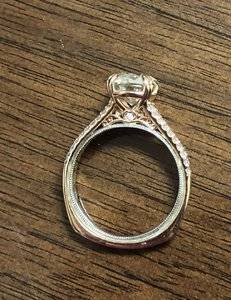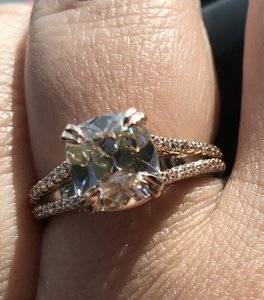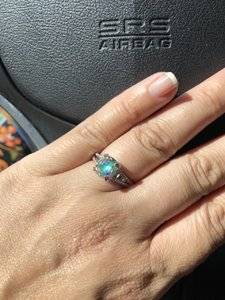 Hi All!
I just wanted to share my experience with both August Vintage and moissanite, in case anyone is on the fence.
In the past, I had a 1.44 J VS2 Hearts & Arrows RB Diamond set in a Vatche royal crown setting for my e-ring. ( from Good Old Gold)
I'm about to get re-married and wanted something totally different this time around. The first diamond I had was gorgeous and what I considered my "dream ring". But this time I wanted the look and quality without the super high price tag.
Enter August Vintage. I began looking into moissanite about a year ago. When I discovered I loved that antique cushion cut look but the cut was not standard, it made me REALLY nervous, especially since that cut was very difficult to find in person.
Knowing Jonathan's experience with the highest quality cuts made me a lot more comfortable purchasing online from him. I chose a 2.97 f/g antique cushion cut, and asked for a video of it in different light settings. He sent a video very quickly, which was great. They were even having a Valentine's Day sale and offered that if I purchased the setting from him in addition to the stone he'd give a discount.
We have a Diamonds Direct nearby. They boast over 4K engagement ring settings. I looked, and looked, but loved... nothing. Although I really liked the Verragio Parisian setting.
My fiancé ended up emailing Jon and asking him what he could create based off of my tastes. He let us tweak. A LOT. He was really great, adjusting here, showing different color options there, explaining that this setting had double the diamond weight around the same price as verragio. He got back to us in a timely manner.
The ring was SO GORGEOUS that I literally thought I SAID YES when he asked. Turns out I didn't. I only said it in my head, I was in such shock.Someone had to remind me to respond.

I love love love my ring, and every detail Jon helped us create, right down to the kind of milgrain and the heart shape holding the surprise diamond.
The inside is platinum, because I'm allergic to white gold, and I'm so thrilled with the two tone rose gold/ platinum combo.
If your hesitant on going with moissanite- do it!!! It is so gorgeous and very diamond like.
I get compliments on the regular. You can see some of the fire in my pics.
@Rhino
is in the process of making my matching wedding band now