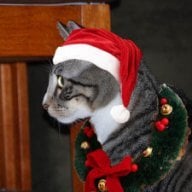 Joined

Dec 3, 2007
Messages

2,392
I can''t sleep tonight so strange things go through my head.
I decided I wanted a beaded veil but I wasn''t willing to shell out $200+ for one. I purchased a very nice, plain veil and have been slowly but surely adding beads along the egde. This is slow work (I''m just shy of halfway done and I''ve put at least 10 hours into it) and I have to take frequent breaks. When I take a break from beading I''ve been, well, putting on my veil and just sitting on the couch.


My FI looks at me like I''ve lost my mind. It is so much fun to wear a veil and I''ve been getting such a kick out of wearing it for those few minutes at a time. I can''t be the only one who tries on their accessories over and over and over again.
Oh, and the beading is turning out wonderfully! I''ve found that the beaded part lays sooo much nicer than the un-beaded part. I hope it sparkles beautifully in the wind and will look great out on the beach.