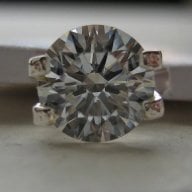 Joined

Jul 2, 2005
Messages

247
Am I normal? Please help oh wise ones...

So, my bf recently (as in TODAY) put through the wire transfer for the stone for the Ering. It is so exciting!! However...it makes me pretty nervous! Up until recently I''ve been so settled and peaceful knowing that I had found the person I wanted to share my life with but all of a sudden, when the money was about to change hands, I got so nervous!

I think part of it may be the actual money. I''ve been involved in the process, so I''m very aware of what it is costing my wonderful bf...and I guess it is one thing to talk hypothetically as in "this could be a stone we could look at" or mythical budgets that we kept in mind, but now that the actually money has been sent...YIKES!

I don''t have doubts about my bf and being the one and everything...we''ve been together 3 years and I''m very sure of that much...but these nerves have really blindsided me.

Now I think its the nerves that are making me nervous! Haha

So...please tell me...is this normal? Thanks in advance for any advice/help from those who have been through this already!